BETTER HOTEL BY MEVRIS
The only system for your guesthouse, you will ever need.
The Better Hotel booking system gives you an overview of all bookings at any time and from anywhere. The solution includes a cash register module and easy automation of reporting of accommodated foreigners.

Thanks to our channel manager we will connect you to the best sales portals. Do you still want to save on commissions? We will help you create your own website with an integrated reservation form that will increase the number of direct bookings.

FREE TRIAL
Our products are easy to use and look great!
Property Management System
The hotel system will ensure easy and effective reception and reservation management
Channel manager
with 160 portals
Connect and manage sales portals from one place
Booking Engine 
with a payment gateway
 Increase the number of direct bookings and save on commissions.
Create your own website
Everything for a first-class presentation of your pension on the Internet
Cash register system with EET
Easy management of cash registers, balancing, printing documents and receipts and more
Automation of reports for foreigners office
You can rely on regular automated reports sent directly to the Foreign Police.
Guest Experience 
Portal
Guest friendly portal where they can get an overview, check in, pay the bill and more
Statistics and reports
Advanced finance and operations statistics help you to make the right decision for your business
Reception and reservation system - the heart of your guesthouse
Quality property management system is the essence of the functioning of each guesthouse. We designed a simple and intuitive environment that provides a perfect overview and control of staff and management.

The whole system is therefore behind everything from bookings to documents, operating statistics or cleaning planning. Of course it works fully in the cloud. Thanks to this you do not have to install anything and start everything safely even from your mobile.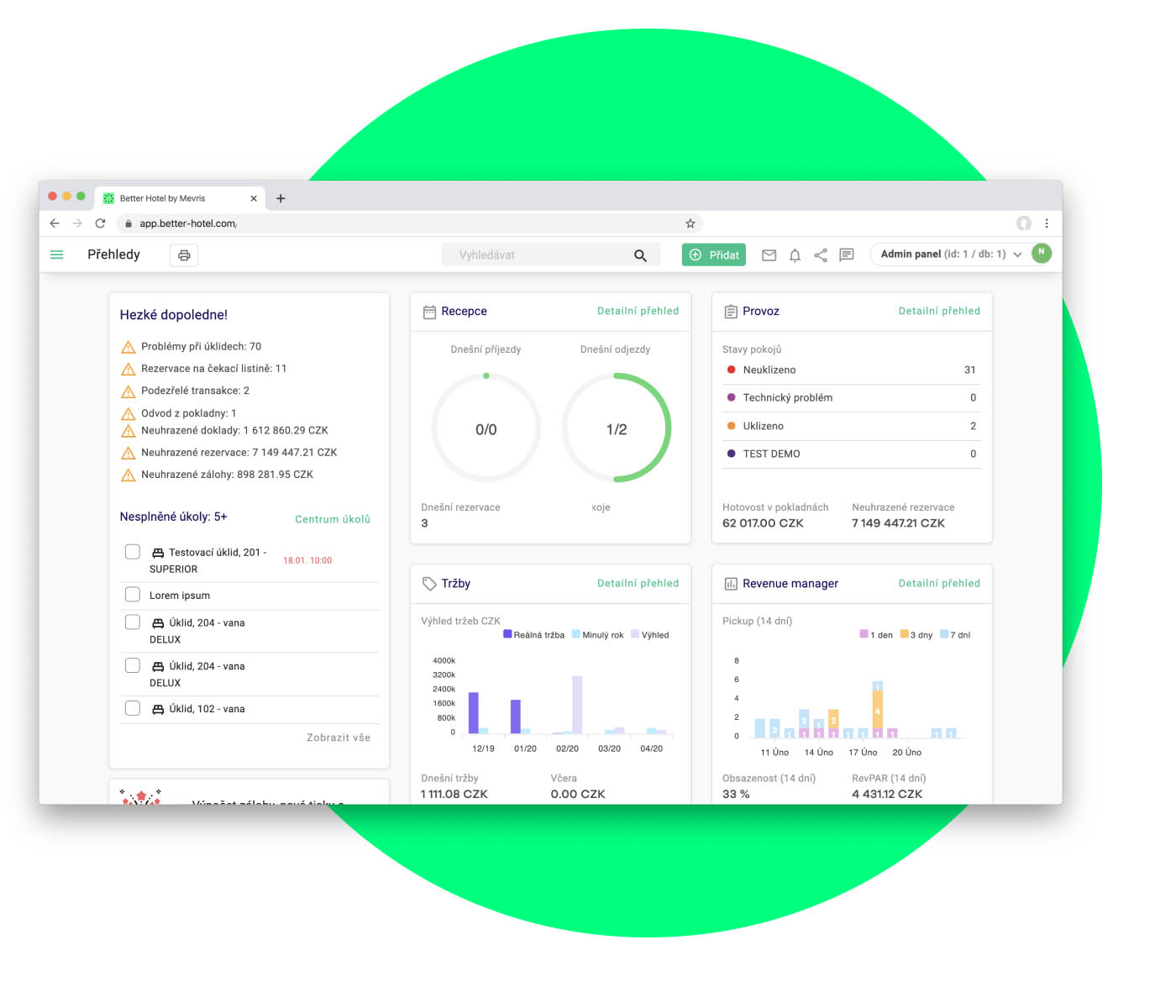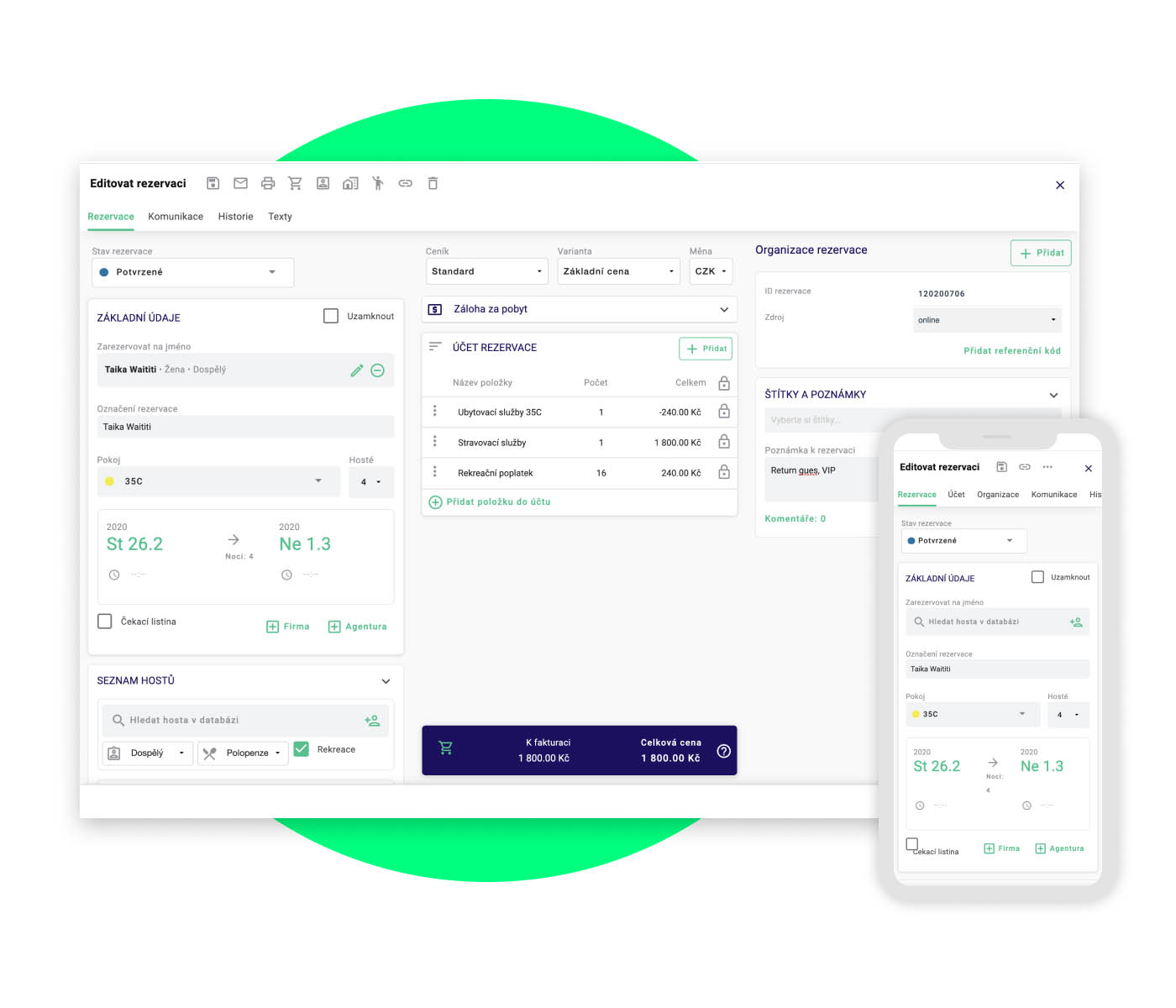 Get more online reservations through portals and directly
Online reservations are now standard. That's why we're going to meet you and connect your device through our top channel manager to up to 160 portals.

Are you saying you don't want to pay high commissions? The optimized booking engine will help you. It is fully responsive and can be easily connected to a payment gateway. Simply paste it into your website and integrate with the rest of the system.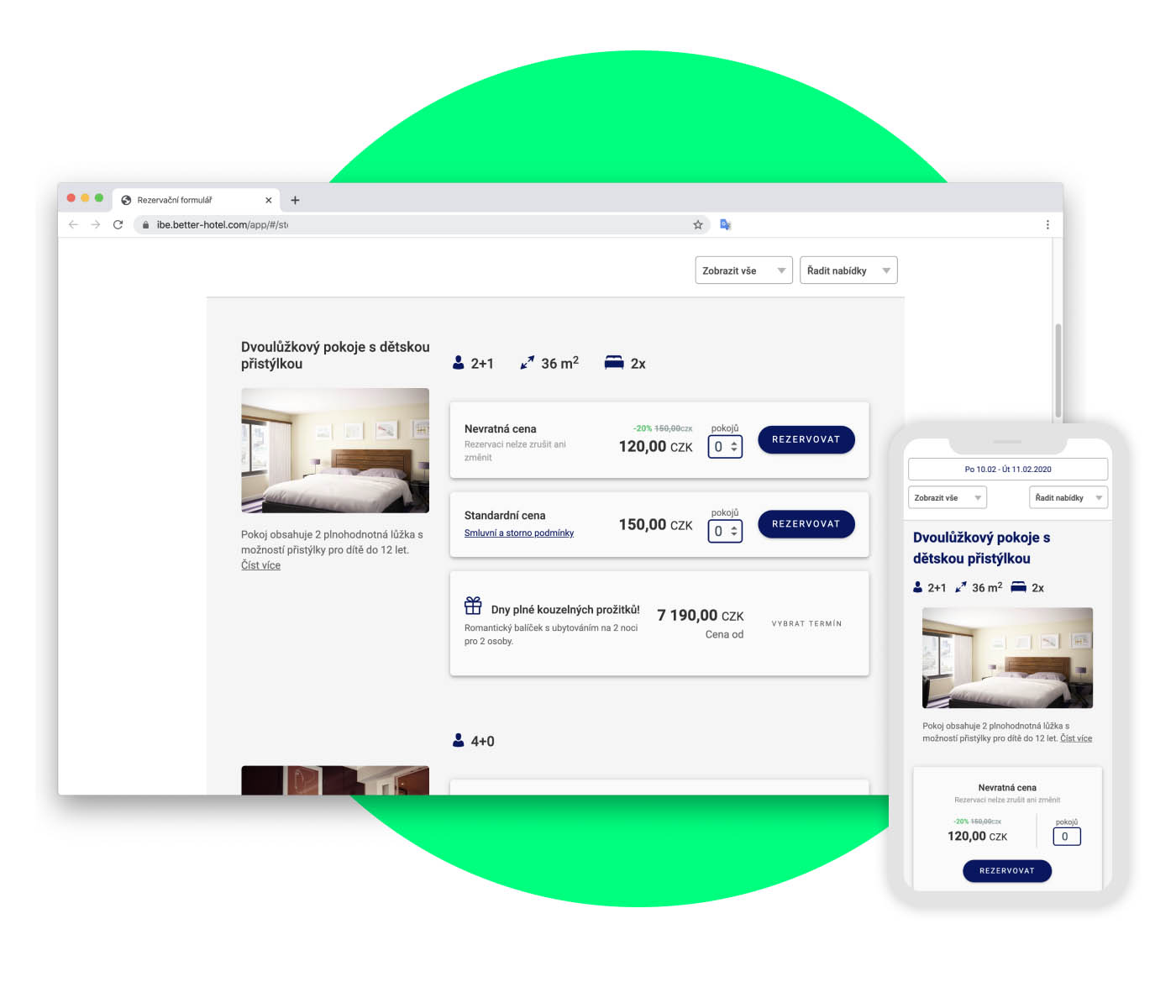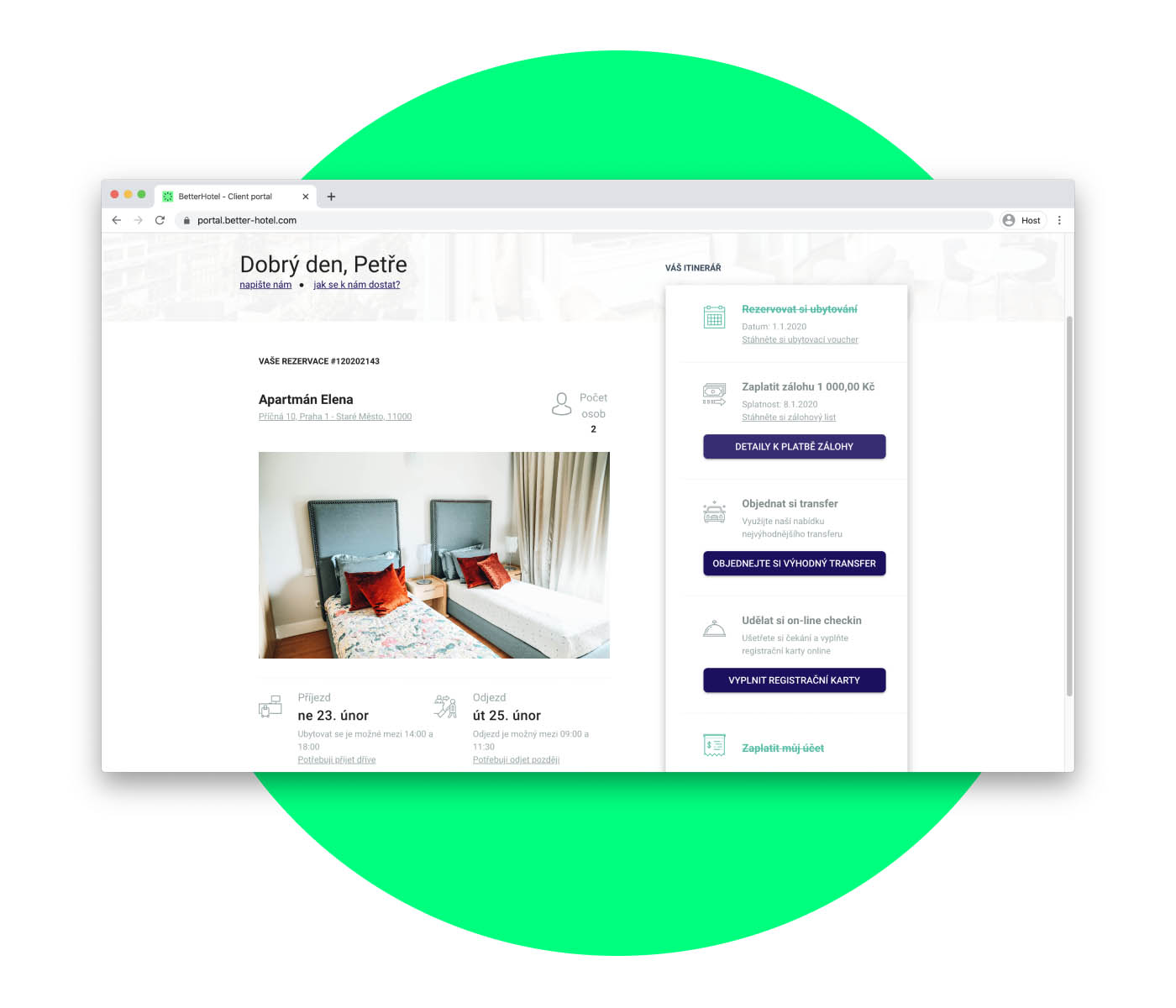 With Revenue Manager, your prices are firmly under control
We know that the right pricing can increase pension revenue by tens of percent, while we are aware that finding the right price is not an easy task.

With our advanced revenue management system you can do it! Farewell to blind copying of prices from the competition. With accurate data analysis, you know what prices to set - important decisions will be based on facts, not estimates.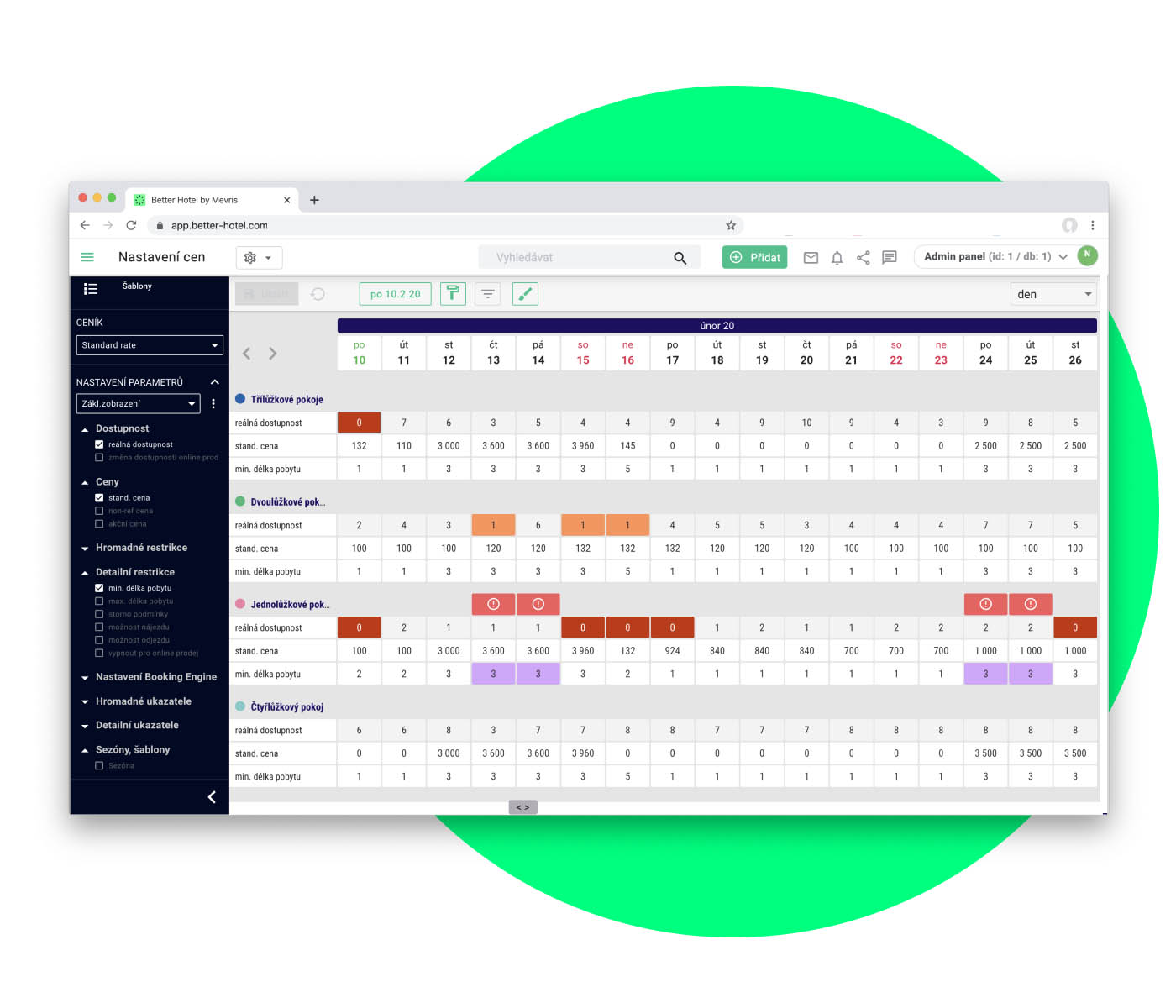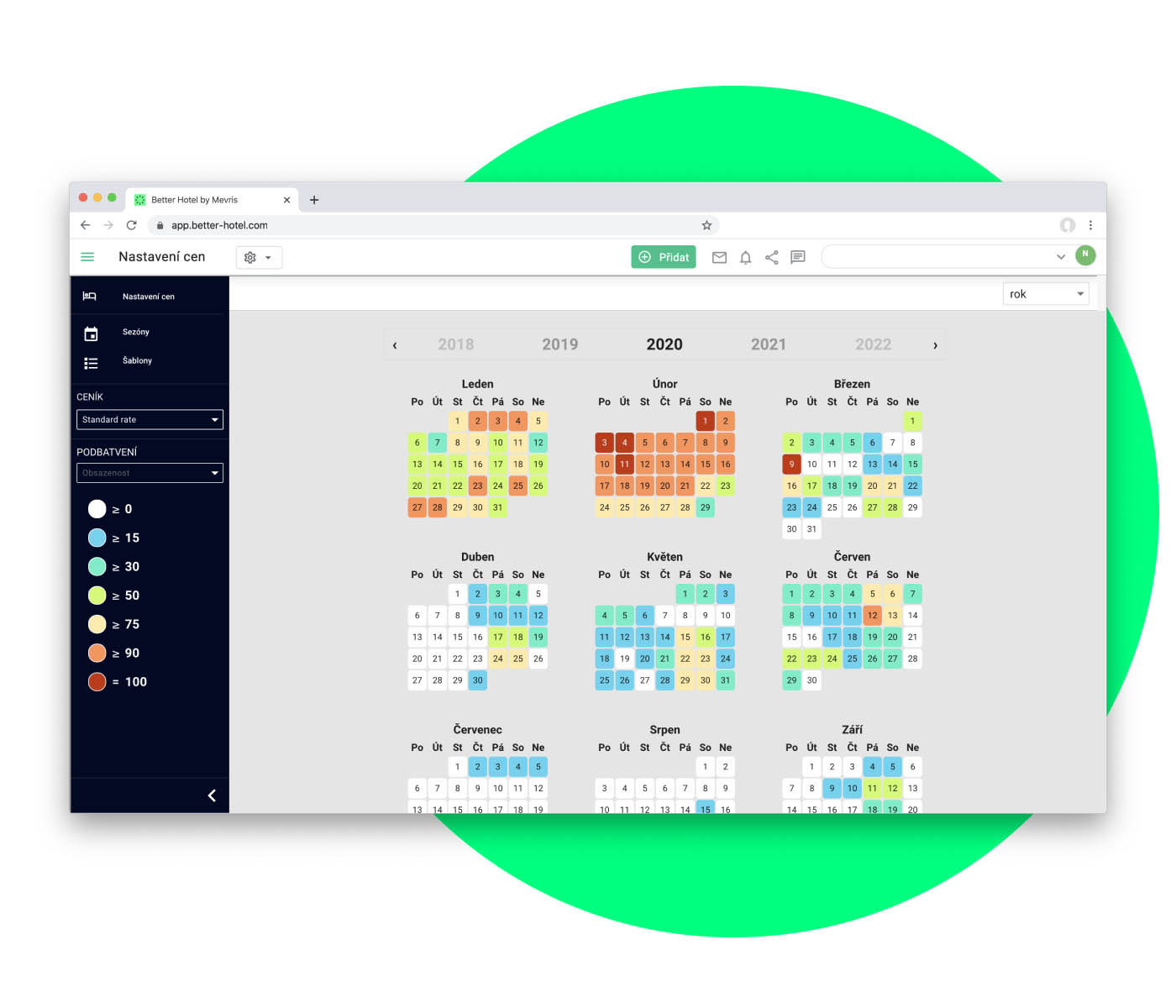 With our detailed statistics you always have clear and transparent analyzes
And you don't have to be bored at all! Thanks to a modern statistical module you can monitor the performance of everything worth focusing on operational or financial data.

In addition, the statistics module offers analysis of basic and advanced revenue indicators - OCC, ARR, revPAR, spendPAR, pickup - to avoid wrongly set prices.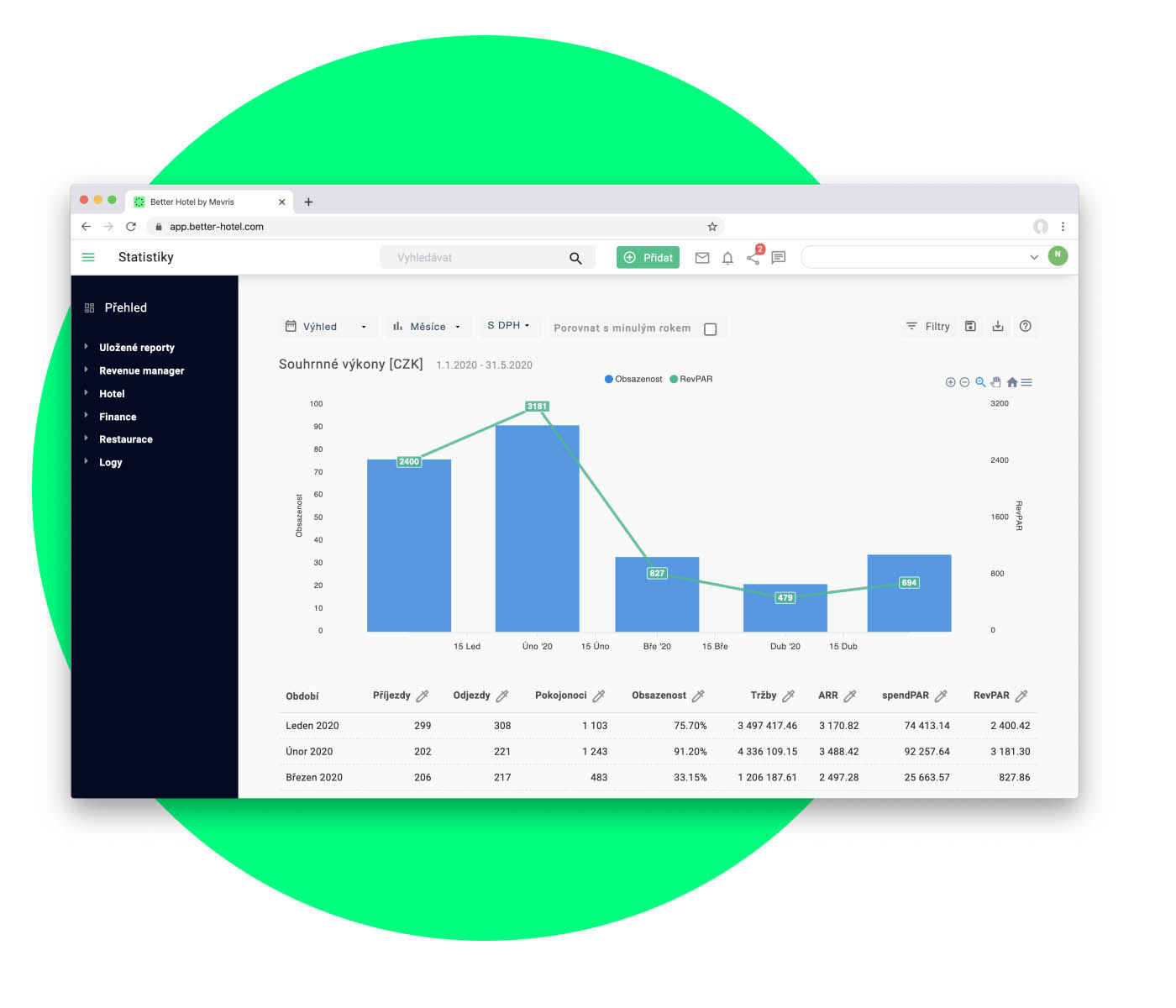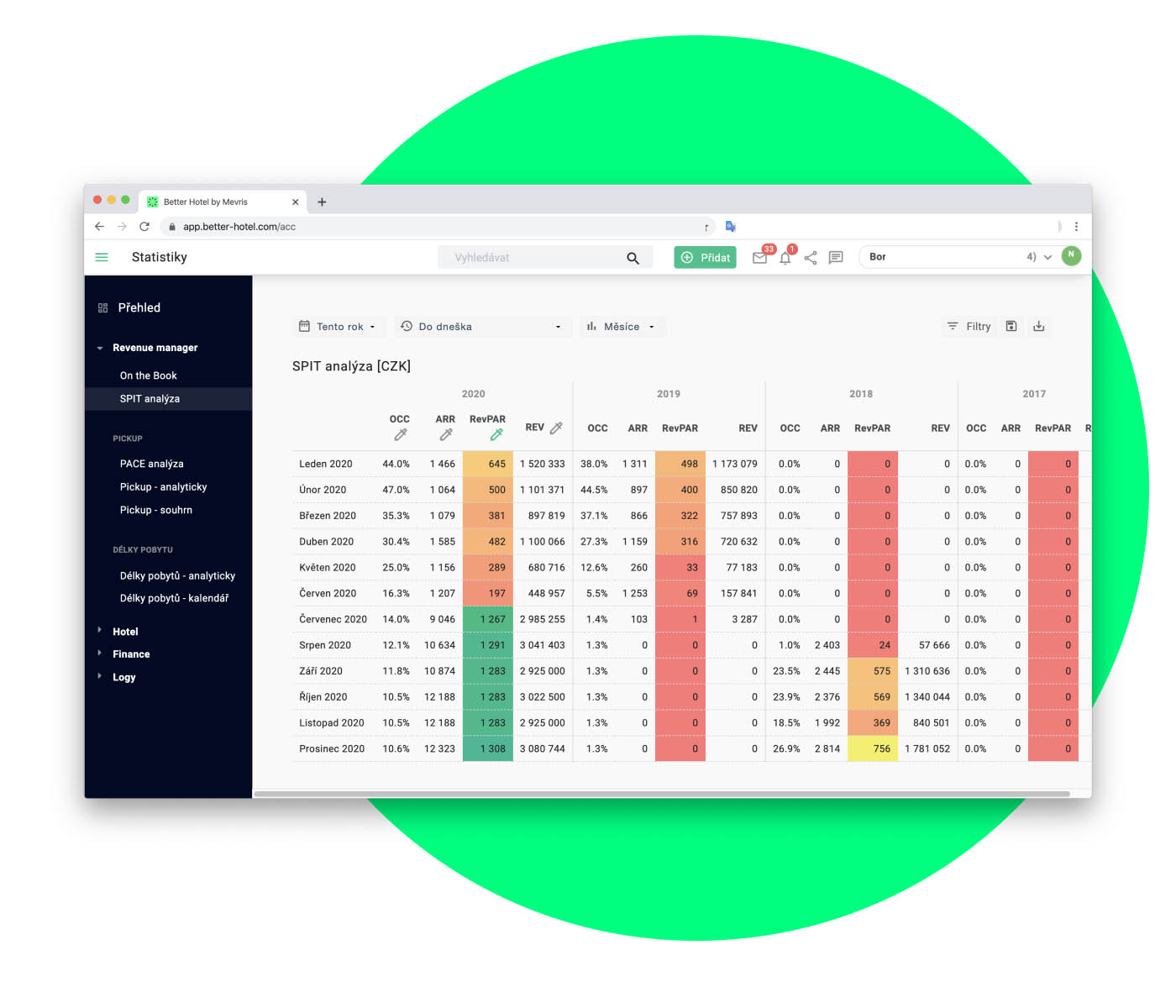 Better Hotel delivers real results.
Check it yourself!
+100%
Annual revenue growth
160h
Aaved weekly work hours
World class support
Our professional team is available daily online and on the phone. We carefully address your questions, requests and suggestions for improvement.

We are here for you!
Get a high-end property management system starting at 40 EUR a month.
We offer a system at fair prices. Choose the right package, avoid high initial investment and pay only for the features you really use.
Show prices
Guesthouses relying on Mevris
Penzion Sykovec
Tři Studně
Penzion U Vyhlídky
Dolní Chřipská
Penzion Jizera
Malá Skála
Penzion Kratochvíl
Dolní Dunajovice
Move your business to an entire new level.
Submit your inquiry and order a trial version of the system for 30 days for free! We are here for you should you have any other questions as well.
Kateřina Vejdová
Sales Manager
Try any of our systems for 30 days for free!
Benefit from a 30 day trial - no commitment, no credit card.
We will contact you within one business day
Ask us anything!
info@mevris.cz
info@better-hotel.com
Mo-Fr 9:00 – 17:30
Outside of these hours and on public holidays only for reporting system outages
Leave us your contanct details and we will get in touch with you.

It's easy, just leave us your phone number and we'll get back to you!