BETTER HOTEL BY MEVRIS
The only restaurant system
you will ever need
The base is a versatile gastro system for restaurants, bars and cafes. It combines a cash register module with EET connectivity and a smart mobile waiter application. The system has a fully integrated warehouse management system for maximum inventory control.

The solution includes recommendation, delivery and installation of necessary hardware such as tablets and receipt printers.

FREE TRIAL
All-in-one restaurant management system - all in one place
Gastro System 
Manage your gastro operations easily. Connected to all reservations
Cash Register system with EET
Easy management of cash registers, balancing, printing documents and receipts and more
Mobile waiter
Smart aplication for an easy and fast Guest service
Open accounts
Registration and easy billing on open accounts for staff and VIP guests.
Stock and recipes management
Inventory monitoring, inventory management, suppliers and orders
Performance statistics and management control
All management performance statistics are clear and immediately available.
Multiple users with different permissions
Unique user access for each member of your team.
Device hardware packages
Advice regarding suitable printers, tablets and other equipment
Mobile waiter always on hand right on your tablet or phone
With our tablet and mobile app, the waiter can take orders from guests right at the table and send commandos straight to the kitchen or bar where the bones are printed. From the application, the client simply issues a receipt, which can be printed on the portable printer again at the table.

Of course there are open accounts, the possibility of division of accounts, categorization of offers or clear loading of items.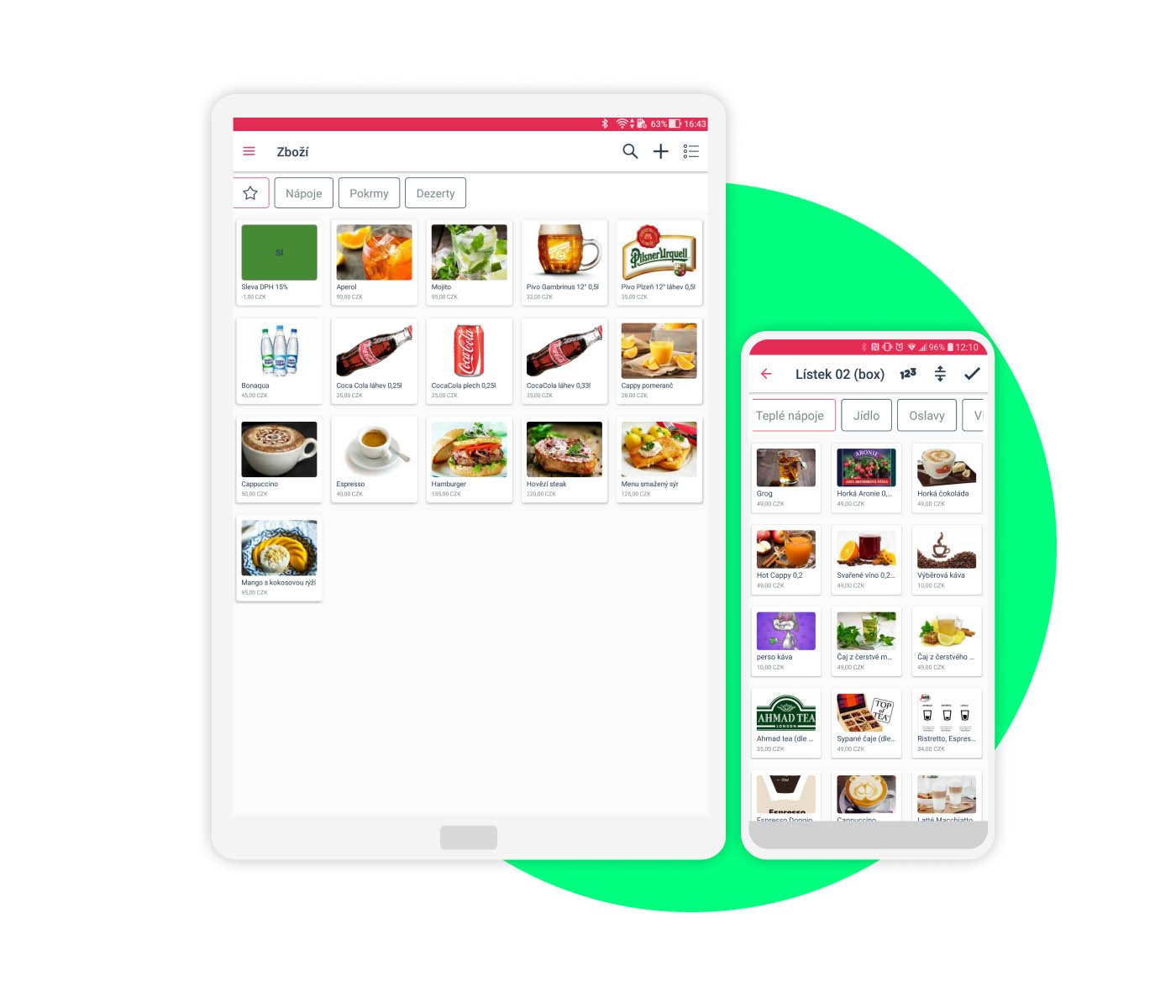 Inventory overview
and orders in one place
A clever restaurant system with a connection to a storage module monitors the status of your stocks. Automatically stock and pick according to sales on the set, including a breakdown of your recipes.
Whenever an order is made, goods or consumed ingredients are immediately deducted from stock. If supplies run out, the system will notify you and allow you to place an appropriate order directly.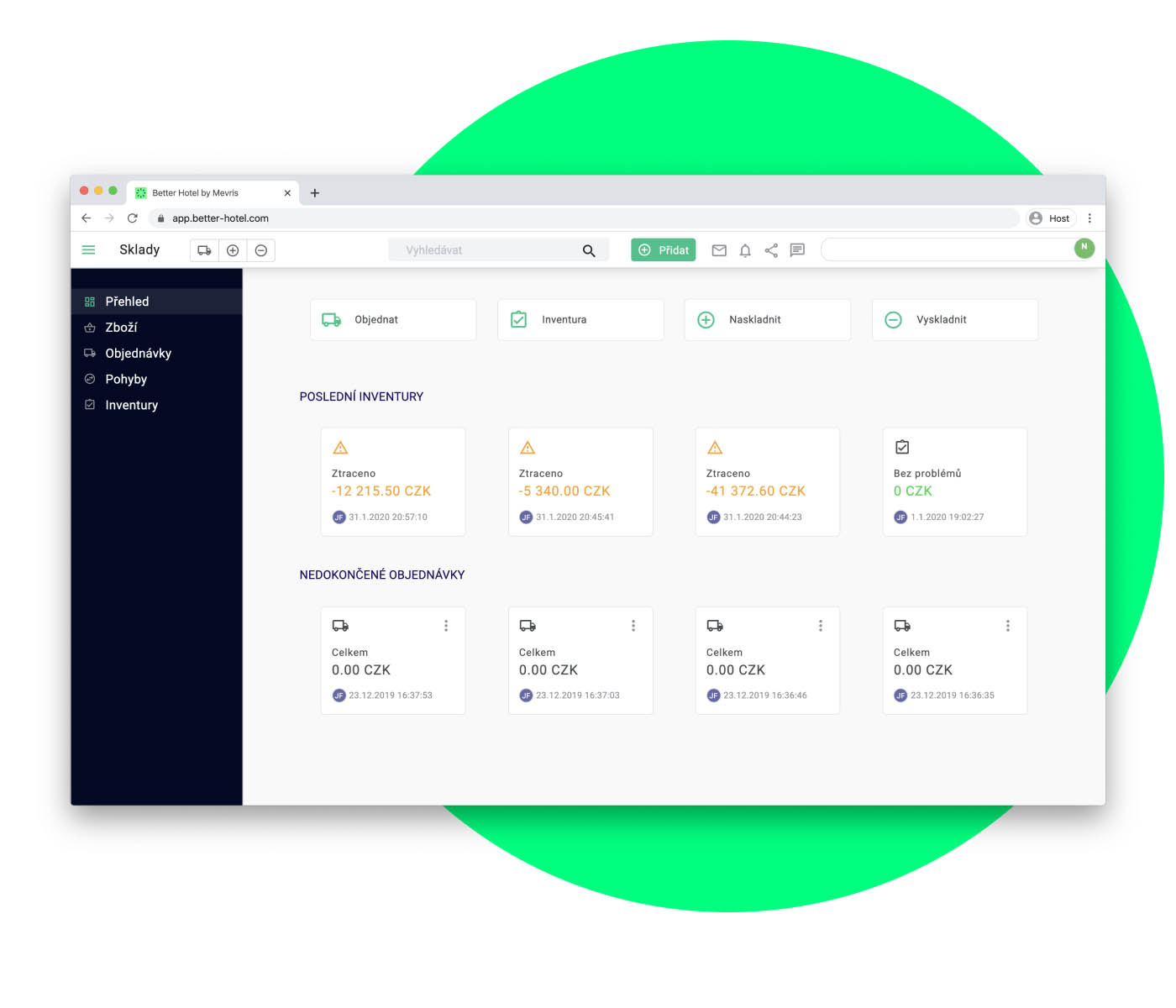 Pay attention to guests, we will calculate revenue and report it for you
In our system, you run an unlimited number of cash registers in different currencies, you can use an unlimited number of document number series and make cash closures as you like!

But jokes aside, you pay attention to guests, because the cash register counting, financial journal entries and EET reports are already arranged by the system for you.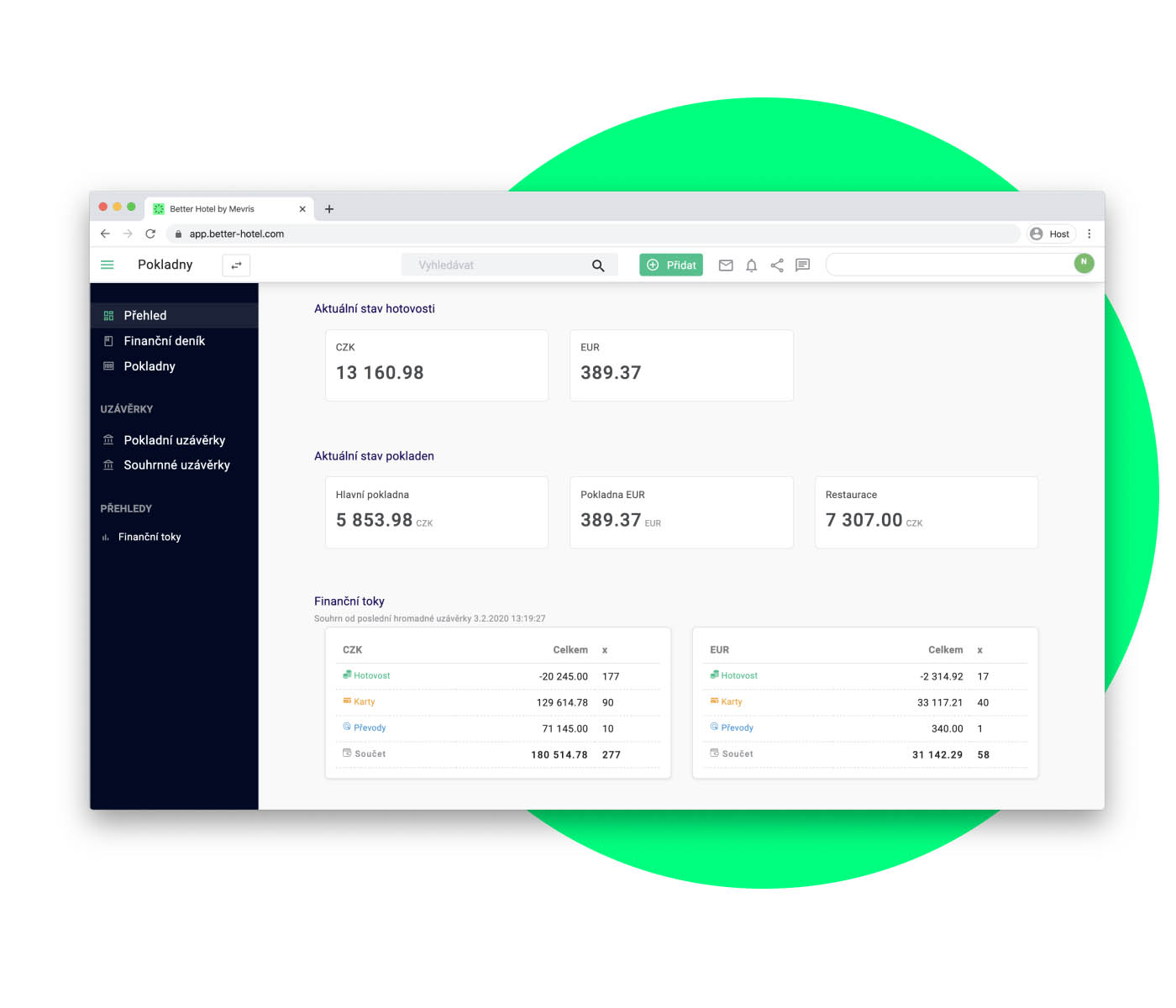 You can stay up-to-date with our detailed statistics
Wondering what revenue share you get in the form of meal vouchers or what waiter is doing best? Then you are right here.

Our statistics module for gastronomic operations will help you monitor these and other important indicators and adapt them to the management of your staff and operations.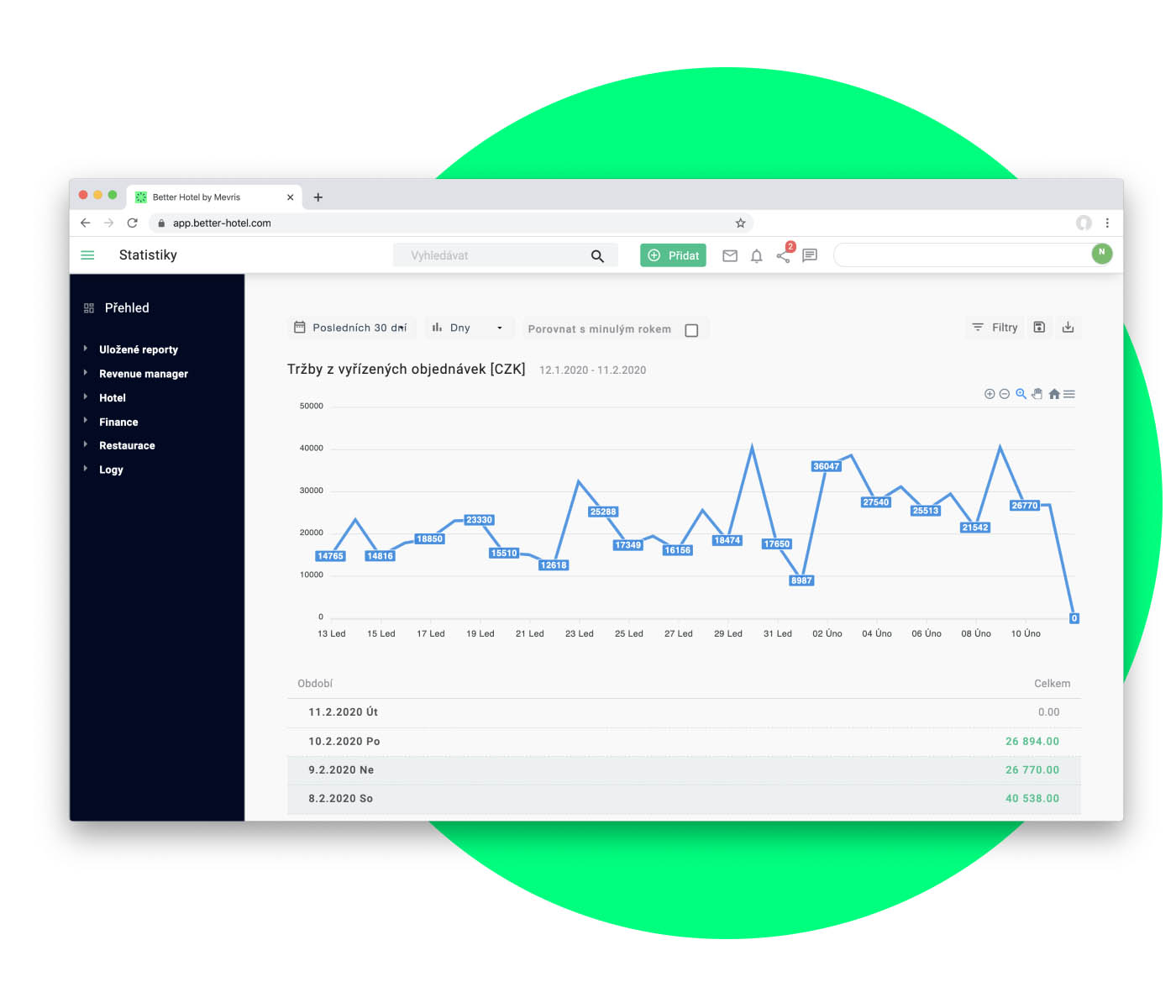 Better Hotel delivers real results.
Check it yourself!
+100%
Annual revenue growth
160h
Aaved weekly work hours
World class support
Our professional team is available daily online and on the phone. We carefully address your questions, requests and suggestions for improvement.

We are here for you!
Get a world class restaurant system
starting at 26 EUR per month.
We offer a system at fair prices. Choose the right package, avoid high initial investment and pay only for the features you really use.
I WANT A NON-BINDING OFFER
Restaurants that rely on Mevris
U Všech andělů
Nové Město pod Smrkem
Move your business to an entire new level.
Submit your inquiry and order a trial version of the system for 30 days for free! We are here for you should you have any other questions as well.
Kateřina Vejdová
Sales Manager
Try any of our systems for 30 days for free!
Benefit from a 30 day trial - no commitment, no credit card.
We will contact you within one business day
Ask us anything!
info@mevris.cz
info@better-hotel.com
Mo-Fr 9:00 – 17:30
Outside of these hours and on public holidays only for reporting system outages
Leave us your contanct details and we will get in touch with you.

It's easy, just leave us your phone number and we'll get back to you!